July 27, 2020
Posted by:

LCAS

Category:

COVID-19, News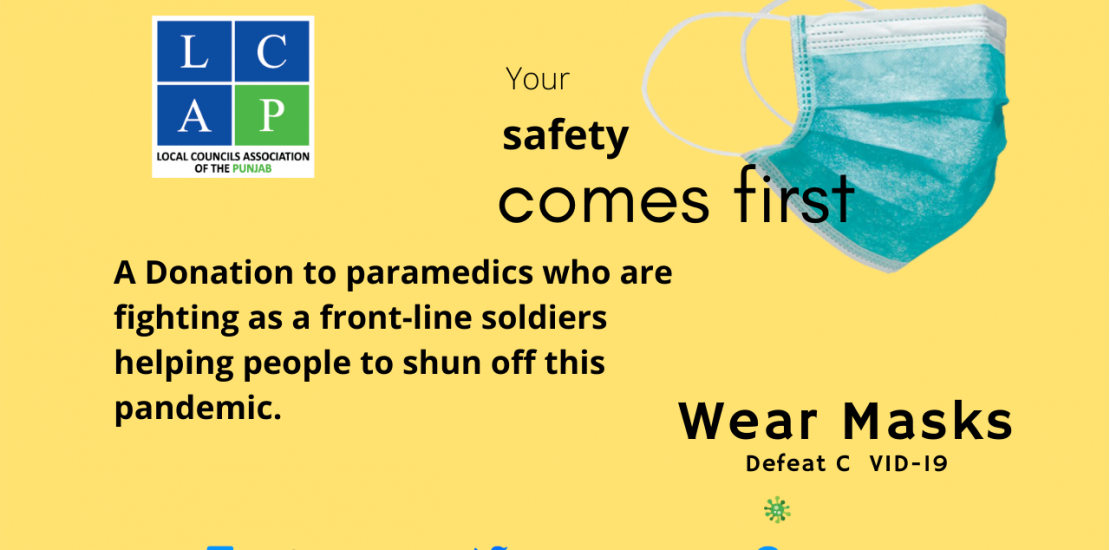 Local Councils Association of Punjab (LCAP) distributed 20000 masks among the frontline warriors against COVID-19 in the health sector. The Doctors and Paramedics who are racing against time to shun the pandemic through infection prevention and treatment. This activity has been performed in the most COVID-19 affected cities of Punjab.
These masks have been donated by City Local Government Guangzhou (China) for helping the most affected districts of Punjab. To help doctors and paramedics, LCA members and Ex Local Government representatives of affected areas distributed these masks evenly in their respective districts.
In Punjab, The District Chairmen/Women of Toba-Tek Singh, Vehari, Jhang, Kasur, Sahiwal and Lodhran in the same order Ms Fozia Khalid Warraich, President LCAP, Mr Zahid Iqbal, Vice President LCAP, Mr, Babar Khan Sial, Vice President, Mr Jamil Ahmad Kals, Vice President, Mr Asif Nawaz, Finance Secretary and the president of Association for development of Local Government Mr Mian Rajan Sultan Pirzada played an important role in this noble act of distribution of masks and reaching to health departments.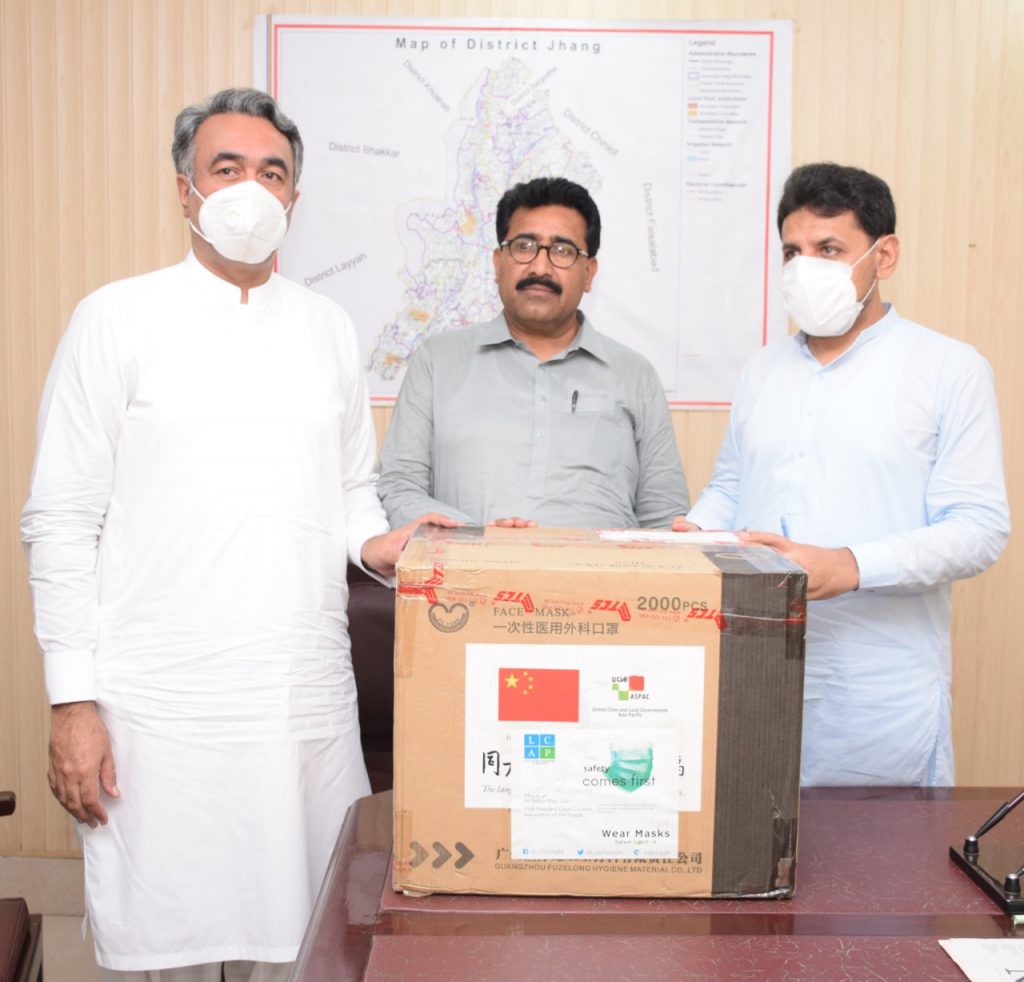 President, Local Councils Association of Punjab, Ms Fozia Khalid Warraich said that the local government representatives are happened to be the perfect and productive choice to devolve and distribute resources and donations during the pandemic, but, unfortunately, last year the current government cut the cord of the local government system in Punjab. We acknowledge the efforts and sacrifices of doctors and paramedics, who are trying to bring prosperity in the country. I also pay homage to my fellow local government representatives who are working unconditionally for social welfare at the humanitarian level.
Mr Babar Khan Sial Vice President LCAP handed over masks to CEO Health Jhang. He promised to continue his efforts for the welfare of public. He distinctively mentioned that this war is being fought by health officials in this country, because our government is not proposing any such policies to stop corona virus spread in our country. The suspension of local government in Punjab is the proof of that.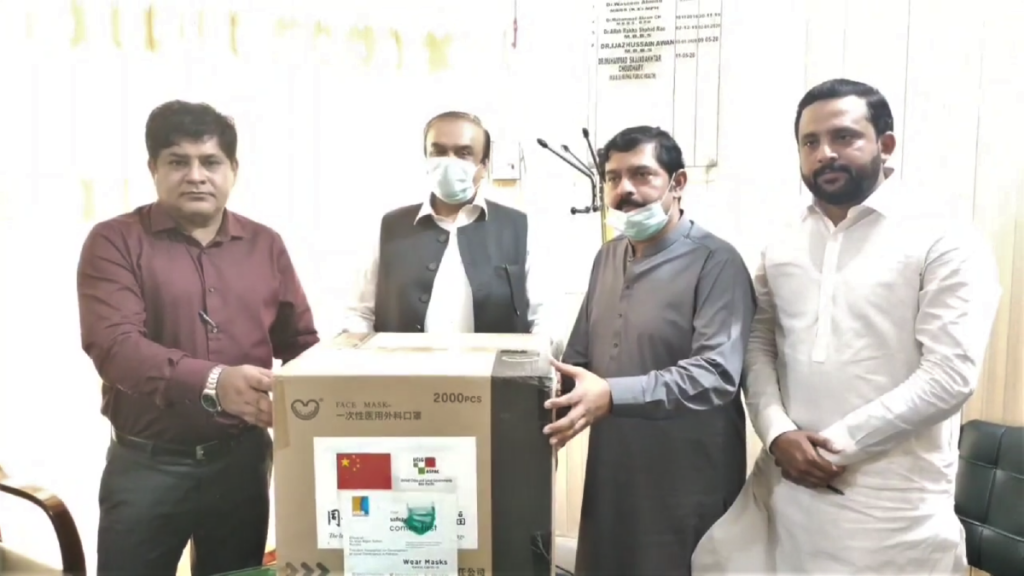 Mr Mian Rajan Sultan Pirzaada, President ADLG acknowledged the public loss in the absence of local government representatives. He further added that all the local government representatives are working at their individual capacity and they will carry this norm forward. He also tendered homage to all the district Chairmen, Mayors and lady health workers for their unconditional support for the public good. He prayed for the betterment of the COVID situation at the global level. Mr Rajan handed over masks to Dr M. Sajjad Akhtar CEO Health, Lodhran.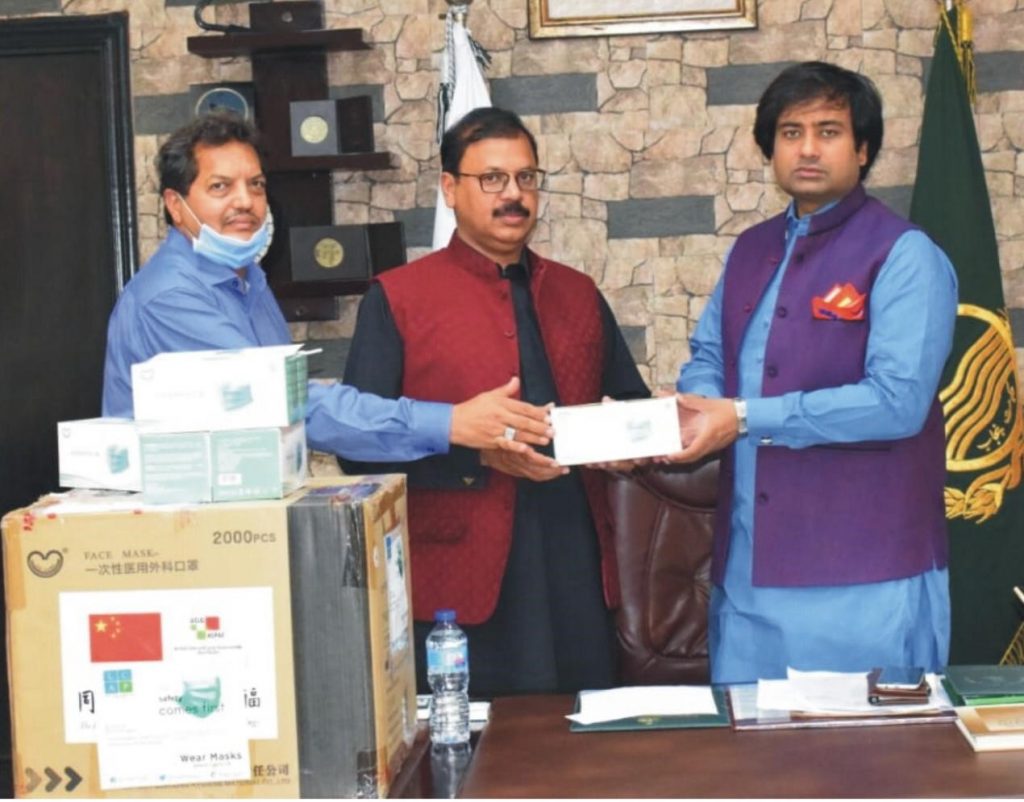 Vice President LCAP, Mr Zahid Iqbal handed over masks to DC Vehari Captain (R) Waqas Rashid in the presence of CEO Health Dr M. Fazil. These masks will be distributed among district health employees who are fighting the pandemic on the front foot. Mr Zahid paid gratitude to all the Doctors, staff and nurses for following standard operating procedures in the hospital premises and taking care of the patients.
Watch the video for details:
Masks Distribution in Sindh, Baluchistan and Khyber Pakhtunkhwa