May 22, 2021
Posted by:

LCAS

Category:

News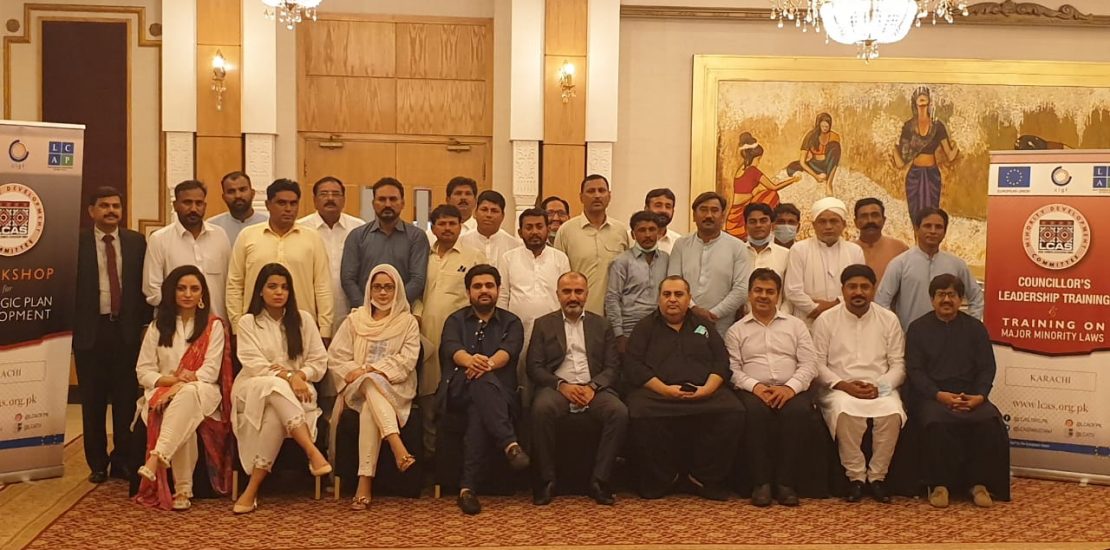 In collaboration with the European Union and Commonwealth Local Government Forum, the Local Councils Association Sindh has organized two consecutive workshops for Minorities Development Committee (MDC) Sindh.
On the 22nd of May, LCAS held Strategic Plan Development Workshop for minorities. The objective of the workshop is to understand the challenges of minorities, discuss possible solutions and develop a long-term Strategic Plan.
The session was attended by notable personalities from Local Councils Association Sindh including President LCAS, Syed Kumail Hyder Shah, General Secretary, LCAS Mr. Ameer ALi Shah, Convener LCAS, Mr. Aslam Shiekh, Executive Director LCAs, Mr. Anwar Hussain, Women Development & Minority Inclusion Officer, Ms. Maham Ahmed, Provincial Coordinator LCAS, Ms. Fiza Baloch and Law Expert, Ms. Zaib Un Nisa.
General Secretary LCAS, Mr. Ameer Ali Shah opened the session with the warm welcome and briefed about the importance of the session for MDC members. Execitive Director Mr. Anwar Hussain shed some light on the background of LCAS while provided the preview of session's activities.
Strategic Advisor, Mr Anwar Hussain opens the session's activities as a moderator with greetings and initiated the activities to involve a group discussion with different participants from various districts of Khyber Pakhtunkhwa to record their reservations issues for the development of long-term strategies to overcome the problems.
Executive Director LCAs, Mr. Anwar Hussain, and Women Development & Minority Inclusion Officer, Ms. Maham Ahmed completed the group activity for MDC Sindh. An interactive talk with participants has been transpired on the role of minorities in the local government. Participants have fully involved in the discussion and asked various questions for clarity. This activity let the participants decide what activities they need in upcoming years from LCAS to cater to their regions' problems.
Minority Development Committee working groups devised salient points as per the challenges they face in their respective areas. Ms. Maham Ahmed, WD&MI Officer and Ms. Fiza Baloch Pitafi, Provincial Coordinator providing technical support.
Ms Zaib-un-Nisa (Law Expert) delivered the workshop on the Christian Marriage Act 1872 and The Christian Divorce Act 1869, and on the Law of Inheritance. The session addressed the reservations related to marriage and divorce registration and property succession.
The LCAS members unanimously nominated Mr. Eshwar Lal as Chairman from Sukkur and Mr. SUhail Masih, Deputy Chairman from Larkana. Furthermore, Mr. Ashraf Gill, and Mr. Khoro Thakur from Tando Muhammad Khan nominated for National MDC which will work under the banner of ADLG.
Hon. President LCAS, Mr. Syed Kumail Hyder Shah ensured the continued support to minority groups in Sindh through the LCAS platform. He specifically mentioned how LCAS influenced timely LG elections through SC petition and supported the inclusion of minority groups from distinctive political backgrounds without any partiality.
Mr. Aslam Shiekh, Convener LCAS, congratulated all the participants for joining the meeting and thanked the CLGF and the EU for arranging the successful workshops for MDC.